Facilities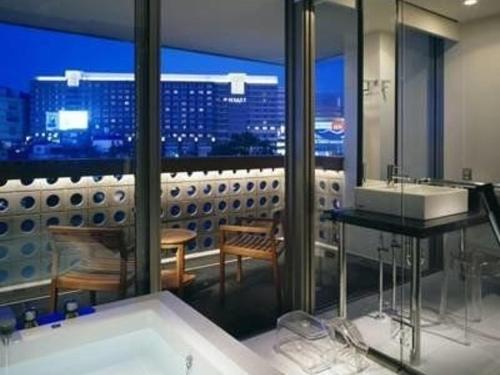 EAST - Monotone and Edge Theme and EAST: Japanese Modern Theme

The Unique theme expressions are origin of the 5th hotel which produced by Jasmac Hotels also runs the "Hotel Il Palazzo".
This is the forerunner of designers hotel.
The commitment to the design of the entrance, lobby and guest room provides a moment that creates rich and elegant space.
In addition, we have "Information Bar" "Bar & Dinning" which transmits "Hakata's Subculture" to each of WEST and EAST,
It plays a role as the center of the "Design Square HARUYOSHI" project with Il Palazzo.
Information Bar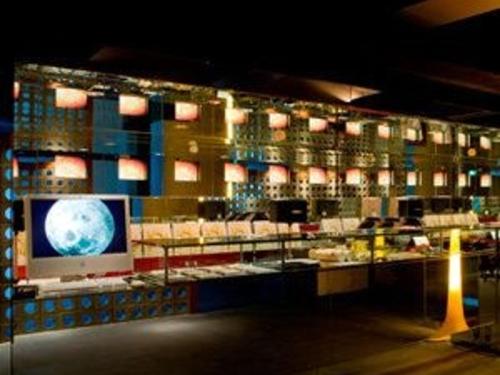 Just stop by and get "Hakata no Jo now". In the case of
"Information bar" was laid out on the first floor hotel front side.
It is a counter space where you can easily obtain Hakata's latest culture information from the 5th HOTEL homepage using Mac. A DJ booth is also provided, and it can be used as a multi-space where club events and parties can be hosted.
In addition, we sell "OILWORKS" CD which deals Kyusyu eyes select item sale, collaborate product development from Focus attention shop in Fukuoka, and also produces 5th HOTEL sound in artists group originating from Fukuoka.
Bar & Dining mitsubachi
On the first floor of EAST, "Bar & Dining mutsubachi" proposes a new form of dining bar "adults can use according to purpose till late night".

It is a new style dining bar with "large standing bar", "dyning flow floor", "river view sofa", "open terrace", "DJ booth" that arranges the European ethnic food that stimulates instincts with fascinating texture and spicy aroma. .

Also, on the third Saturday, we hold a night lounge event "Honeycomb" inviting domestic and foreign DJs and artists to attract the night of Hakata.